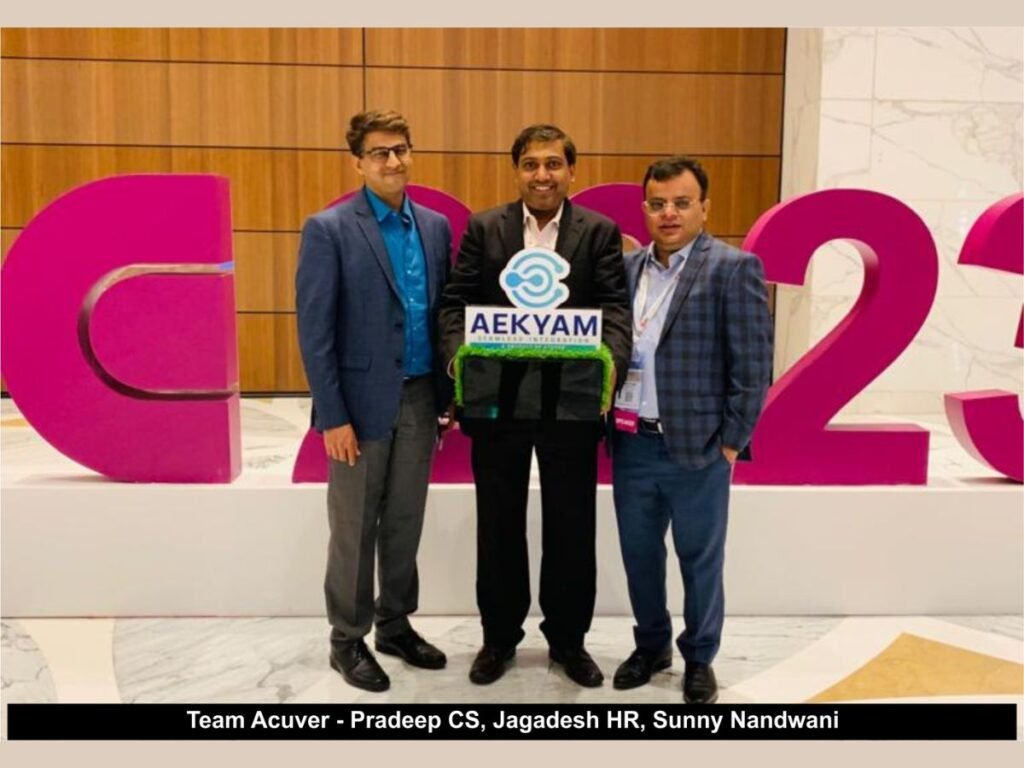 Mumbai (Maharashtra) [India], June 8: Aekyam has democratized the global iPaaS segment by opening the doors to enterprises of all sizes with a reliable, seamless, and adaptable platform. Enterprises across industries now have access to Aekyam, an intelligent, AI-powered iPaaS solution customised to meet each client's specific needs.
Continuing its record of launching products that are market need-driven, Acuver Consulting, a niche supply chain management company, has today announced the launch of its latest product, Aekyam, an AI-powered, cutting-edge iPaaS platform that is highly scalable, secure, and resilient, providing retailers with the tools they need to stay ahead of the curve and thrive in this ever-evolving landscape.
Success in the retail industry is driven by connecting customers to the right products at the right time and, critically, always at the right price. Implementing this formula has, so far, proved to be easier said than done due to factors such as data diversity and security, personalization demands, shopping experiences and customer data platforms. Aekyam, an advanced, intelligent iPaaS solution equipped with robust API management capabilities, tackles all these challenges head-on. With Aekyam, customers can now effortlessly develop, publish, monitor, and automate intricate business processes spanning across diverse cloud and on-premise systems. It is the go-to solution for seamless, rapid, and secure integration, providing the competitive edge retailers have been looking for.
Praveen Shrikhande, Chief Digital and Information Officer at Aditya Birla Fashion and Retail Ltd expressed his delight, stating, "We are an Alpha user of Aekyam and have used it even prior to its official launch! It fulfils a critical requirement in the integration landscape, facilitating seamless integration across on-premises systems, cloud platforms, and various other technologies essential for Ecommerce businesses. This is an area where there was a solution gap, and Aekyam is well-positioned to bridge that. We extend our best wishes to Acuver for the success of Aekyam!."
"We're very excited about the possibilities that Aekyam has released into the market globally," said Sunny Nandwani, Founder & Managing Director of Acuver Consulting. "We have been on an extremely interesting journey ever since the launch of Acuver. Our primary mission is to listen to the market and keep solving their challenges with solutions that are tailored to their needs, and we will keep improving this platform with such market demand-driven enhancements. We believe Aekyam will change how retailers look at iPaaS for managing their businesses."
Market reports are clearly indicating the value of a smart, scalable integration platform for retailers, and Acuver's Aekyam is ready to be at the frontline of this revolution.
"Aekyam is an all-encompassing integration platform that provides a comprehensive suite of tools to facilitate the seamless integration of diverse systems and environments", said Pradeep CS, Director of Technology, Acuver Consulting. "We have put our domain knowledge and experience of more than 500 man years into creating cutting-edge features to ensure swift and efficient integration, enabling customers to achieve one-ness in their operations and drive growth".
The global Integration Platform as a Service (iPaaS) market size is projected to reach USD million by 2026, from USD million in 2019, at a CAGR of Percent during 2021-2026, says market reports. Education, healthcare and life science, government and public sector, consumer goods and retail, banking, financial services, and insurance are some of the industries that have all started to reap the benefits of iPaaS, across the globe.
For more information on what the all-new Aekyam platform does, please visit https://acuverconsulting.com/products/aekyam/
Acuver Consulting
Acuver Consulting helps companies optimize their supply chain for enhanced efficiency, profitability and consumer experience. We combine the right tools, methodologies and expertise in IT, Business and Technology to deliver solutions customized to your unique requirement. Proactively employing the latest industry innovations and ensuring the customer-centric digital transformation of clients are the operating paradigms of Acuver.
If you have any objection to this press release content, kindly contact pr.error.rectification@gmail.com to notify us. We will respond and rectify the situation in the next 24 hours.