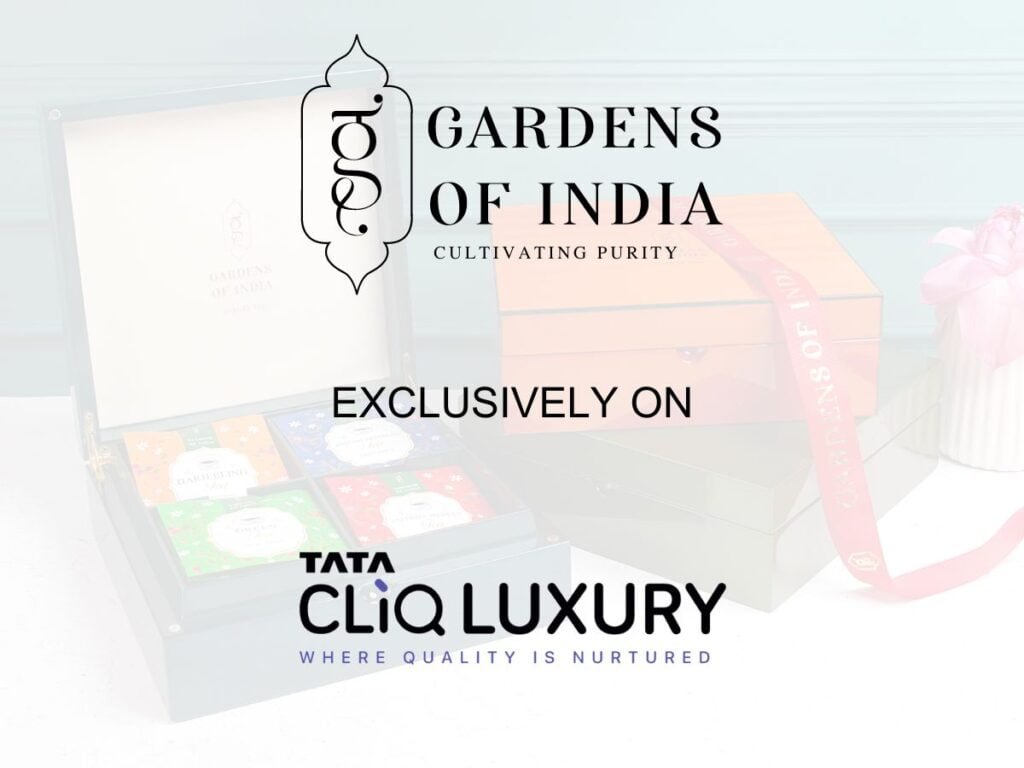 New Delhi (India), June 10: Gardens of India, a renowned brand for tea, spices, and foods, is thrilled to announce its partnership with Tata CLiQ Luxury, India's premier luxury lifestyle platform. This collaboration marks a significant milestone for Gardens of India as it expands its reach to a wider audience and offers its exquisite range of products to discerning customers across India.
Gardens of India has been committed to delivering excellence, authenticity, and quality in every tea and spice blend it offers. With a strong focus on ethical sourcing and sustainable practices, the brand ensures that its products are carefully selected from the finest farms and estates in the country. By partnering with Tata CLiQ Luxury, Gardens of India aims to reach discerning customers who appreciate the rich and diverse flavors of India's gardens while valuing sustainability and supporting local communities.
"We are delighted to join hands with Tata CLiQ Luxury to expand the availability of Gardens of India's exceptional range of products. This partnership aligns perfectly with our vision to showcase the natural beauty and cultural heritage of India through our tea, spices, and foods," said Jaivardhan Agarwal, CEO of Gardens of India. "Tata CLiQ Luxury's esteemed reputation and extensive reach will enable us to introduce the essence of Indian flavors to a global audience and fulfill our mission of promoting Indian cuisine worldwide."
As a platform, Tata CLiQ Luxury is renowned for curating a distinctive collection of luxury brands and products, providing customers with an unparalleled shopping experience. By joining this prestigious platform, Gardens of India aims to position itself as a global ambassador for Indian food and beverages, sharing the rich cultural heritage and culinary traditions of the country with customers around the world.
"We believe that Gardens of India's range of tea, spices, and foods perfectly complements the luxurious offerings on Tata CLiQ Luxury. The brand's commitment to authenticity, purity, and flavor resonates with our discerning customers who appreciate the finer things in life," said Gitanjali Saxena, Chief Business Officer, Tata CLiQ Luxury. "We are excited to have Gardens of India on board and look forward to a successful partnership."
As part of this collaboration, Gardens of India's esteemed customers can now access their wide range of products on Tata CLiQ Luxury. From iconic chai blends to subtle spices used in Indian cuisine, customers can experience the essence of India's gardens conveniently and have their orders delivered promptly and securely. The entire range of luxury cotton tea bags, gift boxes along with its meticulously curated collection of spices and foods will also be available on the platform. The luxury cotton tea bags, crafted using the finest quality cotton, offer customers an unparalleled tea experience by allowing the tea to steep and release its natural flavors and aromas to the fullest.
Customers can now browse and shop for Gardens of India's products conveniently on Tata CLiQ Luxury's digital platform, ensuring a seamless shopping experience. With Tata CLiQ Luxury's reliable and efficient shipping options, customers across India will have the opportunity to savor the richness and diversity of India's gardens with just a few clicks.
Gardens of India's partnership with Tata CLiQ Luxury represents an exciting opportunity for the brand to expand its presence in the luxury market and further establish itself as a leader in the industry. The collaboration combines Tata CLiQ Luxury's distinguished platform with Gardens of India's exceptional products, setting the stage for an exceptional customer experience.
"Our partnership with Tata CLiQ Luxury marks a significant milestone in Gardens of India's journey to become a global ambassador for Indian food and drink," continued Agarwal. "Together, we aim to redefine the way people perceive and experience Indian flavors, showcasing not only their taste but also the cultural heritage and sustainability behind them. We are confident that this collaboration will solidify our position as a leading brand in the global market."
Gardens of India has already garnered acclaim and recognition for its commitment to quality, authenticity, and sustainability in the domestic market. This collaboration with Tata CLiQ Luxury further strengthens the brand's positioning and opens doors to new opportunities for growth and global expansion.
Shop here – https://bit.ly/3OXkwBl
About Tata CLiQ Luxury:   
Redefining the term luxury in India – one that reflects the flawless values of thoughtfulness, authenticity, timeliness, and quality – Tata CLiQ Luxury embraces the principles of the Slow Commerce brand philosophy to enhance consumers' online luxury shopping experience. Here, the attention shifts to finer details, to craftsmanship and heritage, and to the tranquillity and value of an experience, where browsing is a delight, and quality is nurtured.
As India's premier luxury lifestyle platform, Tata CLiQ Luxury offers premium & luxury brands across a range of categories, including Accessories, Apparel, Beauty & Fragrances, Fashion, Gourmet, Handbags, Home, Sneakers & Footwear, Stationery, and Watches. The platform delivers an unparalleled shopping experience through a careful curation of brands, thoughtfully developed brand stores, luxury delivery and unboxing experiences designed to bring luxury shopping to the customer's doorstep, and personalised privilege programmes, managed by attentive relationship managers.
Tata CLiQ Luxury is committed to responsible business practices. In an endeavour to support our green goals, the circular packaging programme allows customers to return their empty packaging boxes after their purchase is received, thereby enabling the brand to recover, refurbish, and reuse them.
For more information, please contact:
Gardens of India
Email: marketing@gardensofindia.in
Phone: +91-7719122222
Website: https://gardensofindia.in/
Instagram: https://www.instagram.com/thegardensofindia/
Tata CLiQ Luxury
Meena Iyer | miyer@tataunistore.com | +91-9886673654
If you have any objection to this press release content, kindly contact pr.error.rectification@gmail.com to notify us. We will respond and rectify the situation in the next 24 hours.