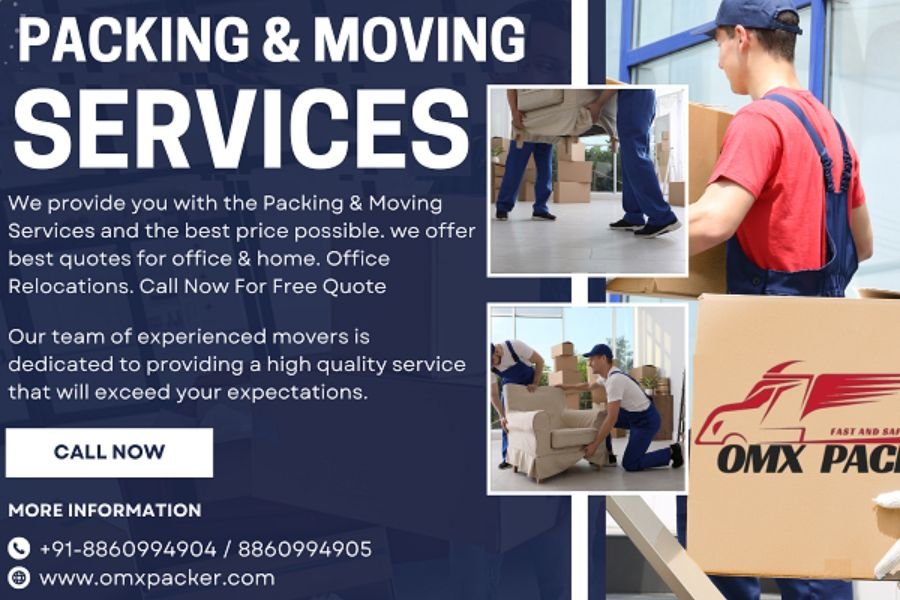 OMX Packers and Movers, a leading name in the relocation and logistics sector
New Delhi (India), June 12: OMX Packers and Movers, a leading name in the relocation and logistics sector, is proud to announce the launch of its cutting-edge digital platform. Under the esteemed parent company Om International, OMX Packers and Movers aim to expand its operations and establish a more substantial presence in the market. With a legacy of over 15 years, Om International has been at the forefront of delivering exceptional relocation services to customers worldwide.
Since its introduction in 2022, OMX Packers and Movers have harnessed the power of digitization, transforming how people experience moving. The newly launched digital platform has become a growth catalyst for the brand, contributing exponentially to its success from the beginning.
In just a short span of time, OMX Packers and Movers has experienced tremendous growth and garnered a solid and loyal customer base. Within the first three months of its launch, the company successfully attracted many customers. However, when the digital platform came online, the customer base witnessed a remarkable surge of 50% within the subsequent three months.
This impressive growth trajectory continued as OMX Packers and Movers entered its next phase, with the following three months showcasing a phenomenal 100% increase in the base customer count. These numbers are a testament to the trust and satisfaction that customers have placed in the brand.
The positive response from customers is a direct result of OMX Packers and Movers' commitment to excellence in service, from on-time delivery to transparent pricing and 24×7 support. The company's meticulous attention to careful handling and ensuring cargo security has also contributed to its growing popularity.
"We are thrilled by the overwhelming response we have received from customers since the launch of OMX Packers and Movers," said Kavita, Director at OMX Packers and Movers. "The significant growth in our customer base is a testament to the trust our clients have in our ability to provide top-notch relocation services. We are dedicated to maintaining this upward trajectory and continue to serve our customers with the utmost care, efficiency, and professionalism."
Kavita added, "With a reputation as one of the most reliable and recognized packers and movers in Gurgaon, we at OMX Packers and Movers take pride in our highly skilled and reputable staff, ensuring a smooth and risk-free packing and moving experience. Before initiating our services, we believe in developing a concrete relocation plan to meet your specific requirements. Our well-equipped and maintained warehouses, along with our 14 years of reliable service and the trust bestowed upon us by our customers, make us the preferred choice for both international and national moves. Additionally, we offer online consignment tracking, with over 2060 moves handled annually, supported by a fleet of more than 200 GPS-enabled vehicles and a strong presence with over 25 branches pan India."
One of the key aspects that set OMX Packers and Movers apart from its competitors is its commitment to on-time delivery. With a well-coordinated network and state-of-the-art technology, the company ensures that customers' belongings reach their destination within the agreed time frame. This reliability has earned OMX Packers and Movers a reputation for being a trusted partner in the relocation industry.
Transparency is another USP of the platform, as OMX Packers and Movers believe in providing customers with transparent and fair pricing. The digital platform enables users to receive instant quotes, eliminating ambiguity and empowering customers to make informed decisions about their moving requirements.
"We are proud to offer our customers 100% security and safety when it comes to their precious belongings. At OMX Packers and Movers, we go above and beyond to ensure the utmost protection during the entire moving process. Our commitment to providing the best and most special deals in the industry has earned us the reputation of being the top packers and movers in Gurgaon. We understand that every customer has unique requirements, which is why we offer competitive rates and customized packing services. We value the trust our client's place in our company, and we strive to exceed their expectations at every step of their relocation journey." added Kavita
With a commitment to zero damage and exceptional service quality, OMX Packers and Mover offer a wide range of relocation solutions, including house shifting, car shifting, and office shifting services. The goal is to provide a seamless and stress-free experience for customers. With affordable prices and customized packing solutions, OMX Packers and Movers are the go-to choices for all relocation needs. The dedicated team prioritizes the safety and security of your packages and consignments, ensuring that they reach their destination intact. 
As OMX Packers and Movers expands its operations and strengthens its digital presence, the company is poised to enhance its customer base further and solidify its position as a leader in the relocation industry.
Experience top-quality service and unmatched customer satisfaction with OMX Packers and Movers.
To know more, visit – https://www.omxpacker.com/
If you have any objection to this press release content, kindly contact pr.error.rectification[at]gmail.com to notify us. We will respond and rectify the situation in the next 24 hours.