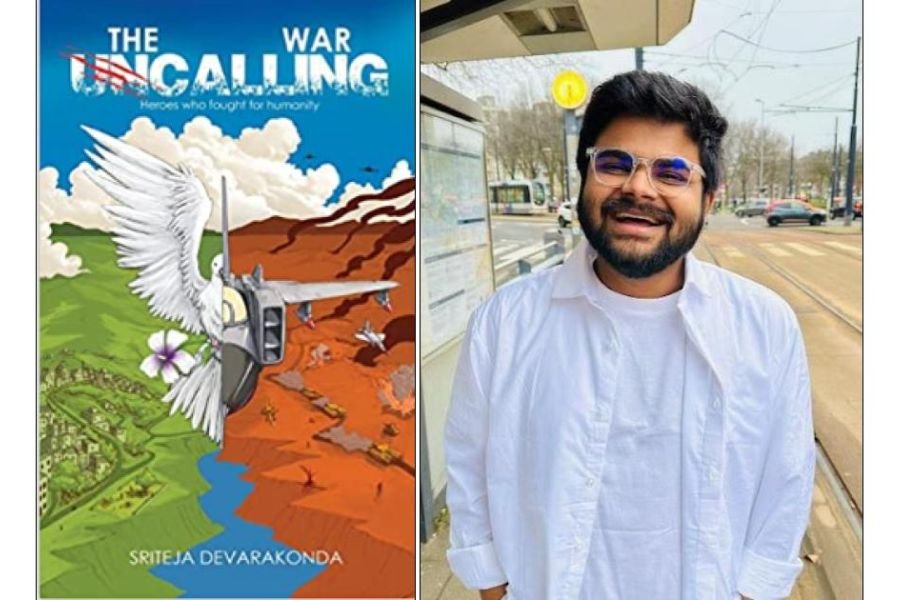 Sriteja Devarakonda: Marketer Turned Storyteller
Rajamahendravaram (Andhra Pradesh) [India], June 14: BlueRose Publishing, an independent publishing house known for promoting diverse voices and compelling narratives, has eagerly embraced the opportunity to work with Sriteja and bring his latest book to readers worldwide, recognizing the significance of his storytelling and the powerful themes explored in his work.
Sriteja Devarakonda, a multifaceted professional, has carved his own path as a marketer, storyteller, photographer and entrepreneur. Born and raised in the picturesque city of Rajahmundry, known for its beautiful bridges and lush green fields, Sriteja's creative journey is one fueled by passion and an insatiable curiosity about the world around him.
Having completed his bachelor's degree in mechanical engineering, Sriteja's career trajectory took an unexpected turn when he discovered his true passion for storytelling. Driven by a desire to share compelling narratives, he transitioned into the field of marketing and embarked on a journey as an independent brand consultant. Alongside his marketing ventures, Sriteja also nurtured his entrepreneurial spirit, building his own businesses that allowed him to explore various creative avenues.
Determined to enhance his skills and knowledge, Sriteja pursued a Master of Business Administration (MBA) degree from the prestigious Rotterdam School of Management. This academic milestone not only expanded his understanding of the business world but also served as a catalyst for his career diversification.
Sriteja's love for storytelling transcends the pages of his books and extends to his passion for videography. His YouTube channel features a variety of content, including his most-watched video, a captivating Russian vlog that garnered over 105,000 views. This creative endeavor stemmed from his solo journey to Russia at the age of 23, after the success of his first science fiction novel, 'The Alien Conspiracy.' Combining his passion for travel and videography, Sriteja's YouTube channel became a platform to share his experiences with a global audience.
In addition to his digital pursuits, Sriteja is an avid explorer of theoretical physics and evolution theories. These interests have significantly influenced his writing style, fostering a natural curiosity that compels him to question everything and infuse his narratives with thought-provoking concepts.
Sriteja's debut novel, written during his bachelor's studies, evoked a sense of accomplishment and nostalgia. As he recalls the days of personally approaching friends in his hostel to order copies, he reflects on the growth he has experienced since then. Life's journey has a way of propelling individuals forward, and Sriteja believes that no matter the chosen path, personal growth is an inherent part of the process.
The publication of his current book, 'The War Uncalling,' which he began writing in 2017 amidst the backdrop of the Syrian civil war, represents a significant milestone. The struggle to balance his career and passion delayed its completion for half a decade, but the COVID-19 pandemic and working from home enabled Sriteja to complete the manuscript. Following a project abroad, he returned to see his book come to fruition.
Sriteja's writing is deeply influenced by personal experiences, including a broken love story during his adolescence. In the aftermath of this emotional turmoil, he turned to pen and paper, channeling his pain into creative expression. This cathartic experience led to the creation of his initial novels, which are still awaiting publication. Later, during his college years, he courageously delved into science fiction, countering the criticisms of Indian fiction by leading American news daily. His work explored the concepts of multiverse and quantum entanglement as early as 2015, long before their popularization in mainstream media.
The central theme of Sriteja's latest book reflects the harsh realities faced by the Syrian people amidst terrorism and power struggles. The story revolves around three key characters: Omar, an ex-Syrian Air Force pilot; Chethan, an undercover news reporter from India; and Joseph, the Director of the CIA. Their intertwined journeys shed light on a journey towards the liberation of innocent lives. Three thought-provoking messages were shared, how far will you go for freedom? Will you be the hero your people need, or will you wait for someone else to step up? What if the world comes together to save humanity?
https://www.amazon.in/dp/9357416870?ref=myi_title_dp
If you have any objection to this press release content, kindly contact pr.error.rectification[at]gmail.com to notify us. We will respond and rectify the situation in the next 24 hours.