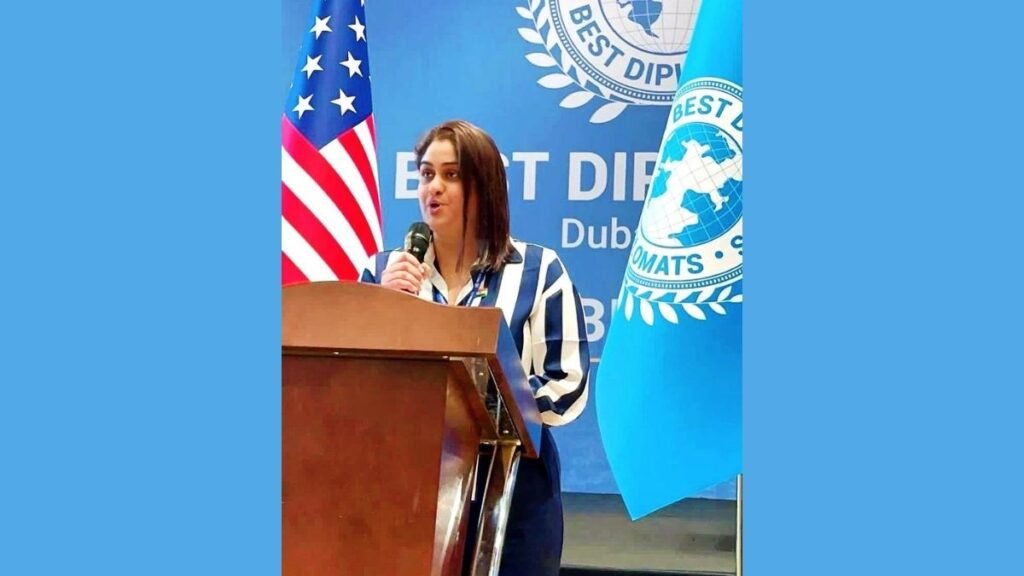 Kriti Ashish
Mumbai (Maharashtra) [India], June 19: Kriti Ashish, an embodiment of resilience, ingenuity, and a profound spiritual quest, has etched her name into the annals of success. Revered as a textile revivalist, entrepreneur, and ardent seeker of literature and the arts, Kriti's transformative journey transcends the realms of conventional achievements. Today, she stands as a radiant guide, leading souls on the celestial pathway and inspiring others to unearth the profound purpose of existence.
With an illustrious master's degree in human resource development and a visionary outlook that transcends the mundane, Kriti has devoted her life to making a resounding impact through her involvement in numerous projects for governmental and non-governmental organizations. Her avant-garde endeavors, such as KAAJ, an esteemed export house specializing in the exquisite artistry of BANDHANI and tie-dye textiles, and KIDSKEY, an innovative platform fostering children's education, epitomize her unwavering passion for groundbreaking ideas and social change.
However, Kriti's ambitions have never been confined to worldly triumphs and materialistic pursuits. Amidst the tumultuous currents of disappointment and stress that pervaded her foray into the economic realm, she embarked on a transformative spiritual odyssey that redefined her essence and purpose. Rooted in her ancestral connection to meditative practices and an innate proclivity for yoga, bequeathed by her sagacious grandmother, she found solace and guidance in these ancient traditions, propelling her towards a transcendent calling.
Her transformative abilities are rooted in her personal journey of overcoming tragedy, loss, and personal struggles. These experiences have propelled her towards spiritual awakening and healing. She emphasizes self-love, mindfulness, and the importance of connecting with one's higher self for holistic well-being. Her journey from entrepreneur to spiritual luminary serves as a testament to the boundless possibilities within each individual. Her unwavering determination, resilience, and cosmic connection have positioned her as a guiding light, inspiring others to embrace their spiritual potential and find
With an illustrious tenure spanning over 28 years immersed in the profound art of "DHYANA" (meditation), Kriti's relentless quest for truth and deep-seated knowledge of Vedic wisdom led her to forge connections with a community of spiritual seekers. Through these transformative encounters, she delved into the realms of cosmic energies and spiritual prowess, transcending the boundaries of mortal existence. Fuelled by an unyielding passion to awaken dormant souls and serve humanity, she emerged as a mystic with an indomitable spirit.
Why should we lend an ear to the words of Kriti Ashish? Firstly, her literary prowess has garnered her recognition, with the Asian Entrepreneur Award honoring her for her exceptional creative writing. However, beyond the realm of accolades, Kriti's personal saga embodies a triumph over adversity. From being sold by her own inebriated father at a tender age of three months to emerging as a survivor of the catastrophic Kandla Bhuj earthquake during her formative years, she has weathered countless storms and emerged stronger each time.
Kriti's entrepreneurial acumen and unwavering determination propelled her to establish her own ventures and navigate uncharted territories, including the remote and diverse landscapes of Leh Ladakh. Yet, it was her intimate encounters with personal tragedy, including the heart-wrenching loss of a child and her own debilitating struggles with depression and physical ailments, that ignited a tenacious fire within her. Fortified by her mother's unwavering support, Kriti summoned the strength to transcend her circumstances, transmuting her anguish into a powerful purpose. 
Moreover, her influence extends across the globe, as seen in her recent Dubai conference on the impact of artificial intelligence (AI), which attracted delegates from 63+ countries representing five continents. As a delegate of India representing Ukraine in Dubai, you have taken on the honorable responsibility of voicing your country's concerns regarding AI and other pertinent issues. Ukraine's struggles and the challenges it has faced as a small country post-separation from the USSR make it imperative to communicate its perspective. By participating in international forums, such as the conference in Dubai, you contribute to a collective understanding and pave the way for collaboration and progress in the field of AI.
Championing the cause of self-reliance and fostering the growth of young minds, she passionately embraced the role of a mentor and guardian, adopting children and instilling in them the values necessary for success. Her extraordinary journey of resilience and audacity continues to inspire multitudes, urging them to embrace their authentic selves, unyielding in the face of adversity. Kriti's unwavering conviction reveals a profound truth: that life, in all its complexity, holds within it a completeness that is intrinsically transformative.
If you have any objection to this press release content, kindly contact pr.error.rectification[at]gmail.com to notify us. We will respond and rectify the situation in the next 24 hours.