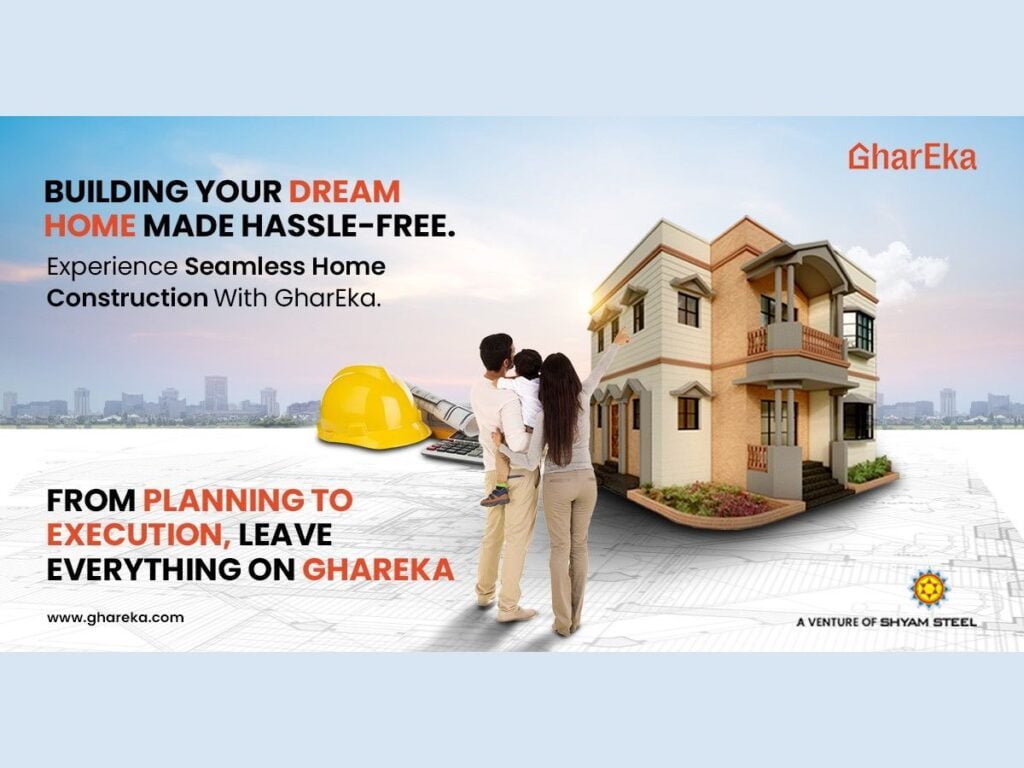 West Bengal [India], June 19: GharEka, a leading home construction company and a proud venture by Shyam Steel is revolutionizing the home construction industry with its unmatched expertise and unwavering commitment to customer gratification. With an esteemed legacy of 7 decades in the steel manufacturing sector, Shyam Steel has now ventured into the realm of home construction, bringing an elevated level of excellence and credibility, much required by individual home builders, to the residential construction market.
GharEka stands out in the industry by combining innovative design, superior-quality materials, and industry-best construction techniques to build homes that exceed expectations. Every project undertaken by GharEka is a testament to their unwavering dedication to delivering exceptional quality homes, exquisite craftsmanship, and enduring value.
"At GharEka, we believe that a home is more than just bricks and mortar. It is a sanctuary where cherished memories are made by generations," says Mr. Suket Beriwal, Director of GharEka. "We strive to create homes that reflect the unique aspirations and lifestyles of our customers. Our team of skilled architects, engineers, and craftsmen work tirelessly to ensure that each home is a perfect blend of elegance, functionality, and sustainability. We prioritize industry best practices and conduct over 100+ quality checks throughout the construction process to ensure every aspect meets the highest standards".
GharEka's commitment to excellence is evident in every aspect of its projects. From meticulously planned layouts that optimize space utilization to building visually appealing homes, GharEka is leading the way in building houses that are both luxurious and practical.
At GharEka, customer satisfaction is paramount. With their state-of-the-art mobile tracking app, customers have real-time access to updates on the progress of their projects. This innovative feature allows homeowners to stay connected and informed throughout the entire construction journey, providing peace of mind and eliminating any uncertainties.
With a wide range of customizable home designs, GharEka offers options to suit various budgets and preferences. They ensure that each home is thoughtfully designed with attention to detail and an unwavering focus on quality.
What sets GharEka apart is its seamless customer experience. From the initial consultation to the final handover, their team is dedicated to providing transparent communication, timely updates, and personalized support to their valued customers. With a customer-centric approach, they ensure that each homebuyer's journey is smooth and stress-free.
The construction industry has long struggled with organizational shortcomings, giving rise to a multitude of challenges including cost overruns, delays, and difficulties in embracing emerging technologies. In addition, ineffective communication, labour shortages, subpar planning, and short-sighted forecasting have further compounded the woes of the industry.
Amidst these persisting challenges, GharEka has emerged as a true game-changer. By streamlining every facet of the construction process, GharEka paves the way for a hassle-free experience in all shortcomings faced by the unorganized home construction industry.
GharEka implements efficient project management techniques to tackle cost overruns and delays, ensuring careful budgeting and timely execution of construction projects. By leveraging emerging technologies, such as advanced construction software and automation, GharEka has streamlined processes, resulting in improved productivity and reduced costs.
Effective communication is a priority for GharEka, as they maintain regular and transparent communication channels with homeowners, providing updates and addressing any concerns promptly.
To overcome labour shortages, GharEka has established strong partnerships, ensuring access to skilled and reliable workers for every project. They even assist customers with obtaining approvals, coordinating with architects, and sourcing raw materials. Through meticulous planning and comprehensive forecasting, GharEka ensures that homeowners have a clear understanding of the project timeline and outcomes.
GharEka aims to revolutionize the construction experience, delivering projects on schedule, within budget, and to the highest quality standards. With an unwavering commitment to exceeding customer expectations, GharEka is reshaping the construction landscape.
Backed by Shyam Steel, GharEka exemplifies its vast industry expertise and unwavering business values, establishing itself as a reliable and trusted brand.
For more information about GharEka and their exceptional home construction services, please visit- www.ghareka.com or contact-18001005353. 
If you have any objection to this press release content, kindly contact pr.error.rectification@gmail.com to notify us. We will respond and rectify the situation in the next 24 hours.