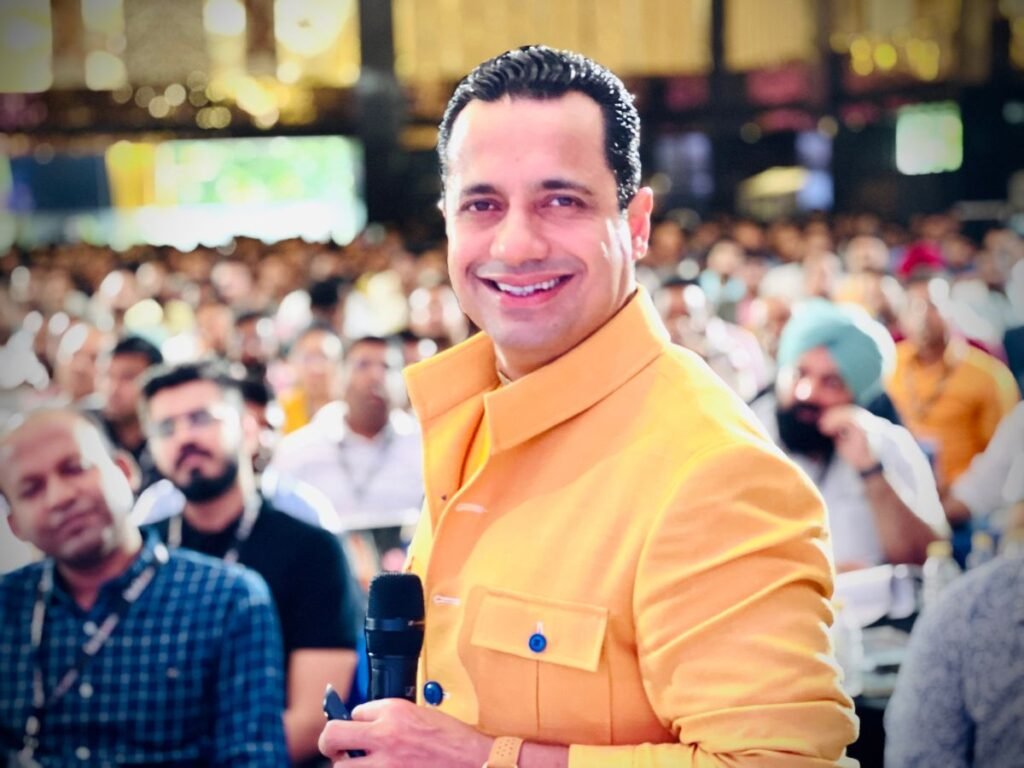 New Delhi (India), June 21: The Leadership Funnel Program that has changed the lives of thousands of entrepreneurs by giving an instant J curve to their businesses is back once again in a new avatar, LFP Plus. The grand event was held in Chhatarpur in the national capital over three days (16-18th June 2023), and was well attended by around 1300 participants. Present to share their knowledge and expertise were many noted leaders and industry experts like the Member of Parliament, Sh. Manoj Tiwari. This personalized interaction with Dr. Bindra ensured that participants received immediate guidance and expertise to address their specific challenges.
Personalized Training and Expert Solutions: Dr. Vivek Bindra's Unique Approach
Dr Vivek Bindra's Leadership Funnel Program Plus offered a remarkable opportunity for the thousands of participants to engage directly with him in live sessions, where they could ask their business-related questions and receive accurate and tailored solutions on the spot.
Learning from Billionaire Professors and other leaders: A Wealth of Business Knowledge
Besides Dr. Bindra's vast expertise, the program provided the participants with the chance to interact with a diverse group of billionaire professors and leaders, who brought their own wealth of business knowledge and experience. This unique environment fostered a collaborative learning atmosphere, enabling participants to gain insights from multiple perspectives and tap into the collective wisdom of successful entrepreneurs, ultimately empowering them to make informed decisions and drive their business growth.
Dr. Vivek Bindra's Commitment to Effective Solutions and Coaching
"I emphasized at the beginning of this program that if I am not able to effectively address your business problems, I don't deserve to be your trainer and business coach. My aim is to provide valuable solutions to entrepreneurs and businessmen to overcome challenges and achieve success in their business endeavors. It's about targeted training, mentoring, and assessments to create a pipeline of talented leaders in the business fraternity," said Dr Vivek Bindra, Founder & CEO, Bada Business, on the sidelines of the Leadership Funnel Program Plus in the national capital.
Finding the Right Switch: Empowering Youth to Navigate Life's Direction
"We all feel lost at some point of life and look for a direction that is meant for us. It is like trying to find the correct electric switch on a switchboard. I am a big fan of Dr Vivek Bindra because he helps the youth of India, people like you to find that right switch…Struggle is a lifelong journey, so just keep trying in life with humility and honesty," said Member of Parliament, Shri Manoj Tiwari addressing the participants.
Mindset Over Skill Set: Transforming Entrepreneurs' Perspectives
The objective behind the Leadership Funnel Program is to improve the skillsets of the entrepreneurs simply by adjusting their mindsets. Mindset over Skill Set and Belief over Behavior is the overall approach. That is precisely the reason why people from around the country come in to participate in the event and get benefitted from the billionaire professor's wisdom and business experience. LFP Plus was held over three days (16-18th June 2023) in a 5 star hotel in Chhatarpur, New Delhi with the facility of breakfast, lunch, and tea for everyone. Along with the chance to interact directly with Dr Bindra and other billionaire professors, the participants also get huge benefits like Lifetime Membership, 52 business frameworks- one per week, more than 100 specialized courses, and access to future courses, besides a personal and dedicated business coach to work with each one of them for the whole year and give guidance and support.
Inspiring Mantra: Think Big, Achieve Big with Leadership Funnel Program
Leadership Funnel Program is all you would ever need to establish, scale up and grow your business whether you are a Startup, an Entrepreneur, Solopreneur, Womenpreneur, or even a Wannapreneur. 'Think big, you can achieve big' is the mantra Dr Bindra wants each and every businessman to imbibe for life, and that is what he tries to give to the participants of Leadership Funnel Program.
If you have any objection to this press release content, kindly contact pr.error.rectification@gmail.com to notify us. We will respond and rectify the situation in the next 24 hours.