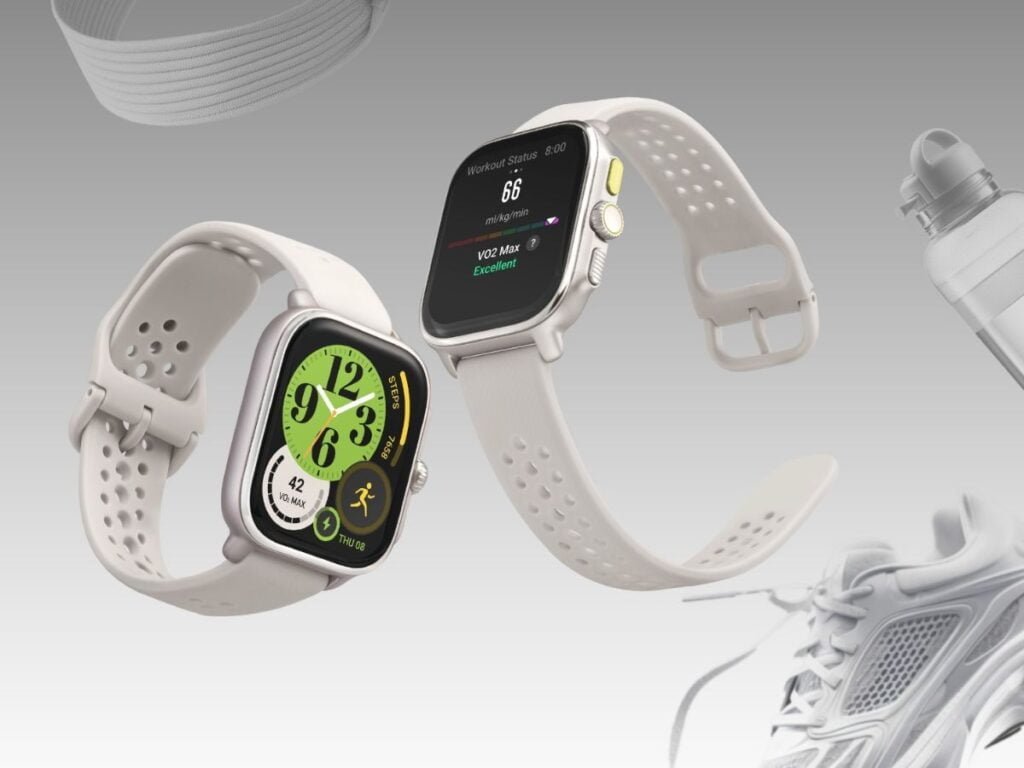 New Delhi (India), September 22: Amazfit, a leading global smart wearable brand owned by Zepp Health, a health technology company, has taken a bold leap into the world of running with the launch of their first dedicated running smartwatch, Amazfit Cheetah series to the Indian market. Engineered to cater to the diverse needs of runners, these innovative timepieces combine cutting-edge GPS precision with MaxTrack

technology, AI-powered Zepp Coach

for personalized training plans, a brilliant 1.39-inch HD AMOLED display, and a sleek, lightweight design to empower athletes of all levels. The Amazfit Cheetah series will be available in select offline stores of Helios and Just In Time, from September 24, 2023, onwards, priced at just INR 20,999/-.
Speaking on the launch, Mr Robbie Wu, Sales Director, Amazfit APAC, stated,"As we introduce the Amazfit Cheetah series to the Indian market, we are heralding a new era in dedicated running smartwatches. Our vision goes beyond mere technology; it's about empowering runners of all levels to reach their full potential. Whether it's runners training rigorously for elite-level races or those seeking to enhance their performance while savoring every stride, with the Amazfit Cheetah series, we hope to provide the ultimate experience for every kind of runner. These smartwatches are not just about GPS precision, AI coaching, or stunning displays; they're about fostering a deeper connection between technology and human performance on the track. We believe in the limitless possibilities that technology can offer, and the Amazfit Cheetah series is a testament to that belief."
Experience Unmatched Design and Display:
The Amazfit Cheetah watch is designed with comfort in mind for its users. Its lightweight construction, featuring a fiber-reinforced polymer middle frame, ensures that individuals can wear it throughout the day without experiencing discomfort. The addition of a crown and button enhances usability, allowing users to control the watch effortlessly, even during intense workouts.
Notably, the Amazfit Cheetah Round boasts a generous 1.39-inch HD AMOLED display, designed to provide exceptional clarity in various lighting conditions. With a resolution of 454×454 pixels and an impressive pixel density of 326 PPI, every detail on the screen appears sharp and precise. Furthermore, the display's brightness, reaching up to 1,000 nits, guarantees readability even in the brightest outdoor conditions.
In contrast, the Amazfit Cheetah Square offers a larger 1.75-inch HD AMOLED display, also boasting a remarkable pixel density of 341 PPI. This sizable screen ensures an immersive viewing experience and exceptional clarity, making it an attractive choice for users seeking a more expansive display.
MaxTrack

Industry leading GPS Technology for Unrivaled Accuracy:
Amazfit takes GPS tracking to the next level with its industry-leading MaxTrack

technology. This dual-band circularly-polarized GPS antenna can pick up nearly 100% of satellite signals, revolutionizing smartwatch positioning. It reduces interference from environmental factors like tall buildings, trees, or cloudy skies, ensuring unrivaled GPS accuracy whether you're in a city or on a wooded trail.
The Amazfit Cheetah Series also supports six satellite systems, providing comprehensive coverage for all your running routes. Users can import route files and access Offline Maps from the Zepp App, ensuring precise navigation and a heightened sense of direction during runs.
Personalized AI-Powered Running Coach
The Amazfit Cheetah Series introduces Zepp Coach

, an AI-powered running coach that creates customized training plans based on your unique traits and race goals. It adjusts your plan week-by-week based on your performance, just like a personal trainer. In select countries and regions, users can even try Zepp Coach

AI Chat for a short demo, offering interactive Q&A sessions to enhance their training experience.
Connectivity and Music on the Go
Connect to professional external workout devices like Heart Rate Belts and Power Meters via enhanced Bluetooth connectivity through Zepp OS 2.0. Listen to music directly on your watch, eliminating the need for a smartphone. With Music Storage & Playback, you can store up to 470 songs and enjoy them with Bluetooth headphones.
Seamless Integration with Fitness Apps, Sports Modes, and Smart Recognition
Sync your run data with popular apps like Strava, Relive, and Adidas Running through the Zepp App. Connect with smartphone apps like Google Fit and Apple Health to keep all your fitness info in one place.
The Amazfit Cheetah Series supports over 150 sports modes, automatically recognizing activities like running, walking, cycling, swimming, and more.
Price and Availability
The Amazfit Cheetah is available at an attractive price of INR 20,999/-. It comes in Speedster Grey colour, allowing users to choose between the Round and Square designs to suit their style and preferences. Indian consumers can purchase the Amazfit Cheetah on the company's website (in.amazfit.com) and from select offline stores of Helios and Just In Time, starting September 24, 2023.
About Amazfit
Amazfit, a leading global smart wearable brand focused on health and fitness, is part of Zepp Health (NYSE: ZEPP), a health technology company. Offering a wide selection of smartwatches and bands, Amazfit's brand essence is "Up Your Game", encouraging users to live their passions and express their active spirits freely. Amazfit is powered by Zepp Health's proprietary health management platform that delivers cloud-based 24/7 actionable insights and guidance to help users attain their wellness goals. With outstanding craftsmanship, Amazfit Smartwatches have won many design awards, including the iF Design Award and the Red Dot Design Award.
Launched in 2015, Amazfit is today embraced by millions of users. Its products are available in more than 90 countries across the Americas, EMEA, and APAC regions. For more information about Amazfit, visit www.amazfit.com.
If you have any objection to this press release content, kindly contact pr.error.rectification@gmail.com to notify us. We will respond and rectify the situation in the next 24 hours.