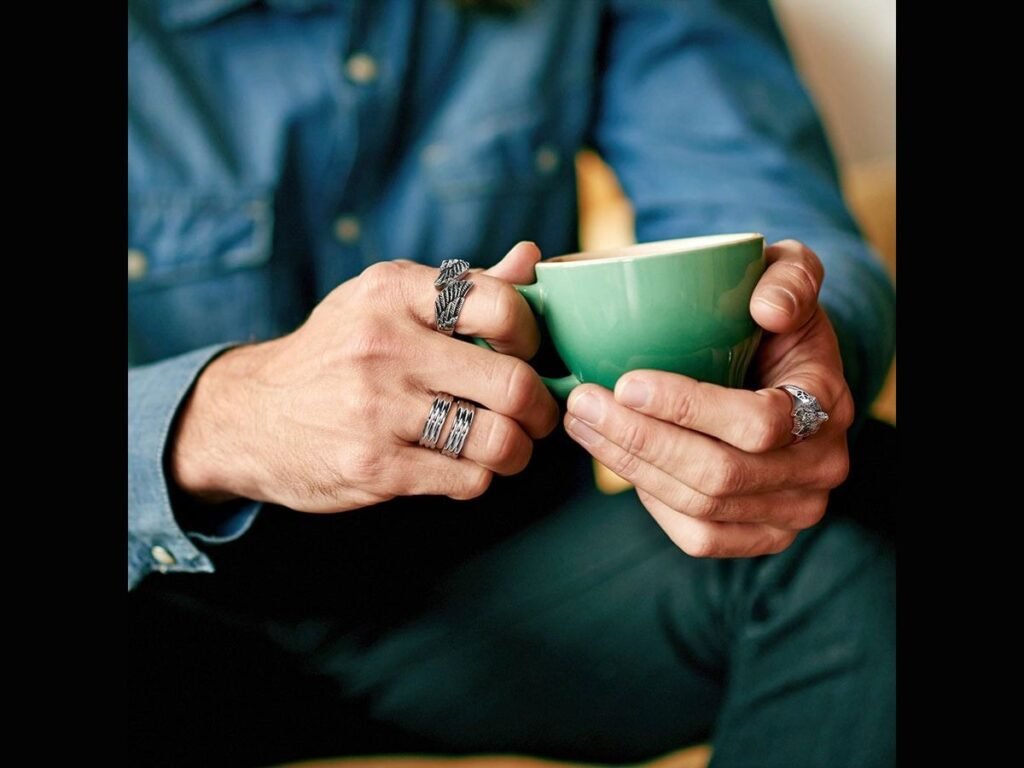 New Delhi (India), June 22: Want to introduce a biker ring to your jewelry collection? These awesome rings are a worthy addition to your personal assortment of body ornaments. If it is your first ring, do you know what things you should consider? We are here to help. Below, we list a few important aspects of choosing a biker ring that will not only fit your finger but also your individuality.
Size
If you are not sure what your ring size is, you should spend a minute and do some measurements. The most popular ring size chart (the US one) corresponds to the girth of your finger in inches. This is what you need to find out. It is pretty easy to do if you have a ruler and a piece of thread. Wind this thread around your finger, measure it, and you are good to go. For more precise measurements, we recommend wrapping a thread three times around your finger, measuring the result, and then dividing it by three.
Biker rings are known for their enormous proportions and weight. Rings with thick and wide bands tend to sit tighter than their slender counterparts. If you have your eye on exactly such a ring, make sure to add at least half of an inch to your measurements.
Type
The word 'biker' in biker rings stands for style but not for a type of finger ornament. Luckily, these rings are available in virtually any shape and design suitable for strong men's hands:
Bands. They are an excellent choice for everyday wear due to their comfortable fit. Bands for motorcyclists are available in smooth and ornate designs showcasing gemstone inlays as well as traditional biker symbolism.
Signets. They feature proclaimed biker symbolism, emblems of motorcycle clubs, motorcycle brands, or any custom image, which sits on a raised bezel. Signets are far from being inconspicuous due to their imposing dimensions coming from their historical function of sealing and signing documents. They are perfect for special occasions but may pinch your finger too hard if you wear them every day.
Gemstone rings. These can feature a single large stone, a composition of several smaller ones, or an auxiliary gem that enhances the impact of the centerpiece. For instance, a skull biker ring with red rubies for eyes packs a more powerful punch than a bauble deprived of stones.
Infinity biker rings. With a pattern that extends across the band, these models are nothing short of impressive. Fiddle an infinity (also known as eternity) ring on your finger as much as you want, but you will always see the same image comprised of, for instance, skulls, lucky numbers, abbreviations meaningful to the biker community, and images.
Spinner rings. These are cool varieties of infinity rings, which instead of a single band have two – an inner and outer one. The outer band spins inside the inner band to give you a chance to fidget.
Functional rings. They perform some kind of function besides being a decorative element of a biker image. Normally, they will provide a stash for a keepsake or a small device such as a compass.
Materials
Bikers appreciate sturdiness above all, so the materials they prefer for their jewelry must be the epitome of that. It is unlikely to see gold and other luxurious metals in rings for motorcycles (although they do exist). Instead, they have a fancy for white metals, with the most obvious choices being stainless steel and sterling silver. These metals withstand the rigors of everyday wear with flying colors, and they are super easy to take care of. Besides, they help build a harmonious image where motorcycle parts, accessories, and jewelry feature the same whitish tint.
In recent years, we have been witnessing a trend for industrial metals for men's jewelry including tungsten carbide and titanium. These metals are a great choice for bands but due to the complexity of their processing, it is impossible to use them for intricate designs.
Inlays
Biker jewelry isn't afraid to be bold and vibrant. When it comes to inlays, it embraces them with great pleasure. As we have already mentioned, motorcyclists have a fondness for durable materials. It comes as no surprise that their go-to precious and semi-precious stones (such as quartz, emeralds, rubies, garnets, onyx, and more) are hard and tough. However, they are not particularly fond of diamonds due to their reputation as luxury goods with lofty prices.
Symbolism
If you are looking for stunner symbolism, biker rings have got you covered. In fact, motorcycle culture heavily relies on symbols, and here's just a small fraction of the images you can see in their rings:
Skulls and skeletons;
Flames;
Eagles;
Gothic patterns;
Gods and deities of world cultures;
Images of motorcycles and their parts;
Tribal patterns;
Totem animals;
Mythological creatures.
Every one of these symbols is associated with a certain meaning (and when it comes to the skulls, they have an all-encompassing significance). As a result, there is a symbol able to resonate specifically with you.
If you have any objection to this press release content, kindly contact pr.error.rectification@gmail.com to notify us. We will respond and rectify the situation in the next 24 hours.