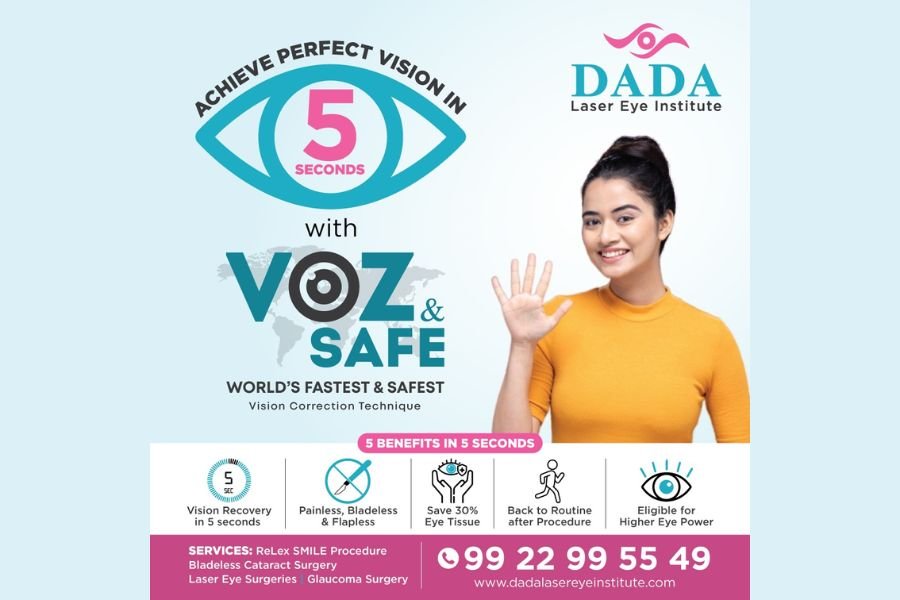 Dada Laser Eye Institute (DLEI): Pioneering Innovations in Ophthalmology
Pune (Maharashtra) [India], September 12: Dada Laser Eye Institute (DLEI) is at the forefront of ground-breaking innovations in the field of ophthalmology, with its revolutionary technique known as VOZ & SAFE, touted as the World's Fastest & Safest Vision Correction Technique. This exclusive offering has not only garnered global recognition but has also revolutionized how we perceive vision correction.
DLEI, the sole provider of VOZ & SAFE worldwide, has consistently demonstrated its unwavering commitment to raising the bar when it comes to safety and precision in vision correction. The institute's dedication to excellence has propelled it to the forefront of ophthalmic advancements.
The proprietary VOZ & SAFE technique, pioneered by DLEI, not only promises freedom from eyeglasses but also ensures enhanced safety, setting new standards in the field. This revolutionary approach to vision correction has received widespread acclaim, earning the trust from renowned eye specialists who have personally chosen DLEI for their own needs.
Leading this revolutionary journey is Dr. Jeevan Ladi, the visionary Founder of Dada Laser Eye Institute and the mastermind behind VOZ & SAFE. Dr. Ladi boasts an illustrious career as a Cataract & Refractive Surgeon, spanning over three decades, and is celebrated for his relentless pursuit of pushing the boundaries of ophthalmology. His pioneering thinking and profound expertise have earned him numerous awards, firmly establishing him as a luminary in the field.
VOZ – Transforming Laser Vision Correction
Introduced in 2015, the Variable Optic Nerve (VOZ) concept by Dr. Jeevan Ladi has redefined LASIK laser techniques. This innovative approach tailors treatments to individual needs by optimizing tissue consumption based on pupil size. Leveraging the advanced Scheimpflug Imaging System and specialized Laser light, precise pupil measurements are obtained, enabling accurate calculations. This, in turn, ensures a harmonious correlation between treated tissue and pupil size, effectively reducing phenomena like glare and halos.
SAFE – Elevating Laser Vision Correction
Dr. Jeevan Ladi's relentless pursuit of excellence led to the introduction of the Shearing Applied Force Extraction (SAFE) technique in 2015. This technique has revolutionized advanced LASIK procedures, such as ReLEx or SMILE, by minimizing corneal inflammatory responses and accelerating the healing process. SAFE harnesses natural forces, ensuring minimal tissue manipulation, rapid visual recovery, and reduced procedure time.
Awards and Recognitions
DLEI's dedication to excellence and innovation has been acknowledged through several prestigious awards:
VOZ:
Best Free Paper by Private Practitioner Award at MOSCON (The Maharashtra Ophthalmological Society Conference) in 2018 and 2019.
SAFE:
Best Research Paper Award at MOSCON 2019.
Best Video for SAFE at the iBeach Film Festival during the All India Ophthalmology Conference in 2022.
For those seeking transformative vision correction and unmatched safety, DLEI's VOZ & SAFE technique stands as a beacon of hope, revolutionizing the world of ophthalmology.
For inquiries and appointments, contact DLEI at: 99 22 99 55 49
Follow DLEI on Instagram for the latest updates: DLEI Instagram.
If you have any objection to this press release content, kindly contact pr.error.rectification[at]gmail.com to notify us. We will respond and rectify the situation in the next 24 hours.